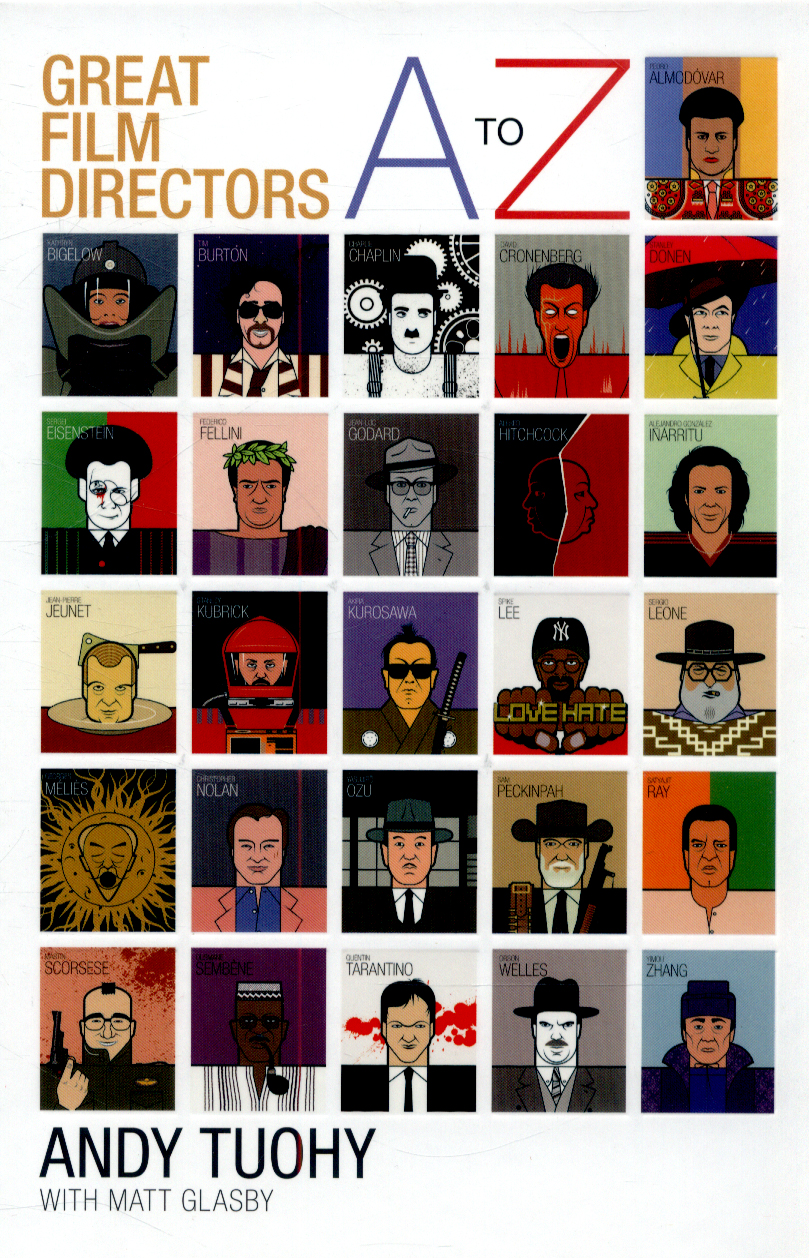 Este livro ilustrado por Andy Tuohy e escrito por Matt Glasby apresenta um breve perfil de 52 diretores nascidos em diferentes países e diferentes décadas, alguns deles já falecidos, outros bem vivos. É um panorama vasto que contém alguns nomes esperados e também algumas surpresas, como Yasujiró Ozu, a dupla Michael Powell e Emeric Pressburger, Satyajit Ray, Ousmane Sembène e Wong Kar-Wai, oferecendo a possibilidade para o cinéfilo ampliar seus horizontes e procurar conhecer a obra desses "great", mas menos famosos, diretores de cinema.
Andy Tuohy é um conceituado ilustrador britânico que faz pôsteres sofisticados e modernos. O livro sobre os diretores pertence à coleção A to Z que inclui também GREAT MODERN ARTISTS e GREAT MODERN WRITERS. Para cada livro, ele faz uma parceria com um especialista da área, que entra com o texto, e ele faz ilustrações superoriginais.
Neste livro sobre os cineastas, o texto é de Matt Glasby, crítico de cinema do London Critics' Circle.
A qualidade estética da obra é primorosa, e o formato é do tipo feito para leitores que não têm tempo para perder, e querem informação concisa e selecionada, sem tanta profundidade, mas também não superficial. Uma página de texto, outra de ilustrações e fotos. Tudo muito ágil e bonito. Do you know what I mean?
A estrutura é outra grande sacada do livro. Umas breves pinceladas sobre a obra e a vida do/a cineasta. Uma coluna chamada FILMS TO SEE, com os 5 filmes icônicos do/a realizador/a em questão, ladeada pelo quadro DID YOU KNOW?, que focaliza um fato curioso na carreira ou vida pessoal de cada um dos 52 diretores. Cada capítulo traz também o desenho feito por Tuohy além de citações dos filmes, fotos e cartazes.
Dá ou não dá vontade de ter na estante?