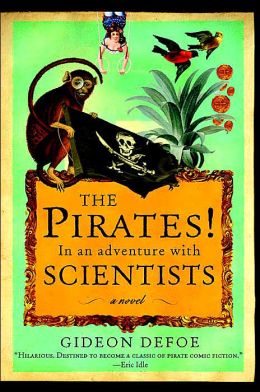 Piratas pirados!
(
The Pirates! Band of Misfits
, 2012), animação com bonecos de resina realizada com a técnica stop-motion, é uma produção dos estúdios Aardman, responsáveis por longas como
Fuga das galinhas
(2000) e
Wallace e Gromit, a batalha dos vegetais
(2005), além da série
Shaun, o carneiro
(cujo site oficial tem um dos jogos infantis mais interessantes e instrutivos da atualidade, vide
www.shaunthesheep.com
). O filme conta a trajetória do Capitão Pirata e seus comandados na rotina inglória de piratear os mares e saquear embarcações com cargas cada vez menos lucrativas. O sonho de Capitão Pirata é conseguir um tesouro e conquistar o cobiçado prêmio de Pirata do Ano. Mas o destino faz o navio pirata abordar o barco de ninguém menos que... Charles Darwin! O autor de
A origem das espécies
é retratado aqui como um cientista ansioso também por vencer o prêmio de Cientista do Ano. E descobre um modo de conseguir: apresentar Polly, a dodô de estimação do Capitão, como a descoberta científica do ano.
Com multicitações que vão desde David Lynch até Stanley Kubrick, com o típico humor britânico que não poupa nem figuras históricas como a Rainha Vitória,
Piratas Pirados!
é sinônimo de animação inteligente. A fonte criativa do filme é
The Pirates! In a Adventure with Scientists,
primeiro da cultuada série de romances de autoria de Gideon Defoe, também autor da hilária e informativa obra
How Animals Have Sex.